The architecture and furnishings of the villa are patterned along traditional colonial lines, yet it is also fully equipped with all the modern conveniences and facilities. The patio is surrounded by white pillars and the roofing, windows and doors are all distinctively designed. The villa was modelled to have its own fresh and unique ambience. We can promise that your stay will be an experience to remember.
ARTISTICALLY DESIGNED
Villa Sans Souci not only puts you in the perfect place to relax and enjoy yourself, it also puts you within close reach of key places!
The villa is a mere 15-minute drive away from the Crown Point International Airport, Tobago.
Only 300m away from the beach, the golf club and the bars and restaurants of the Magdalena Grand 5-star Hotel, there is no shortage of entertainment and fun to be had.
Here are some photos of the Hotel poolside and beach-front.
Outside, the spacious covered patio opens out onto the jacuzzi and large swimming pool. The poolside is elegantly curved and a long row of steps leading down into the water stretches straight across the entire width of the pool. The villa offers a magnificent view of the18-hole PGA championship golf course of the Magdalena Grand Hotel Tobago Plantations Beach, Golf & SPA Resort. It is surrounded by 2000m² of a well-kept lawn and garden and also has a car park.
The villa's four cosy bedrooms are each equipped with their own private baths and walk-in closets. Each bedroom also has its own balcony that opens up to the outdoors. Ventilation is provided by ceiling fans, as well by as air-conditioning units. The villa also has fully-equipped laundry facilities.
The large living room with its rich, colonial-style wooden furnishings is spacious and airy and commands a view of the swimming pool and patio outside. It is ventilated by both traditional ceiling fans and modern air-conditioning, and also contains a cable-ready television set. The lamps and soft wall lights can be paired up or used separately to create your own unique evening lighting ambience.
The villa's kitchen is fully equipped. The cupboards and counter-tops and the tiled floor have blended finishes in crisp and clean white and off-white shades. The dining area flows into the living room, and its large glass-top table can easily seat six persons.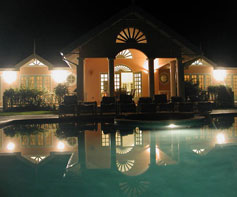 Quick Links: